The Lighting Agora has the award-winning industry experts to design, develop and deliver the highest quality in Lighting Education. Whether it is a general information program, a focused subject program, virtual or in-person, we listen to your needs and use our decades of expertise in delivering the pinnacle of Lighting Education.
With over 100 years of experience in the lighting industry and nearly that in developing and delivering top quality lighting education, the renowned lighting educators at The Lighting Agora are positioned and have the skills to fulfill all your lighting educational requirements.
The team at The Lighting Agora has experience with all segments of the industry as well as all experience levels. Whether you or your group are lighting novices, experts, somewhere in between or a combination of all levels, The Lighting Agora will listen to your end goals and provide whatever services that are required to get there.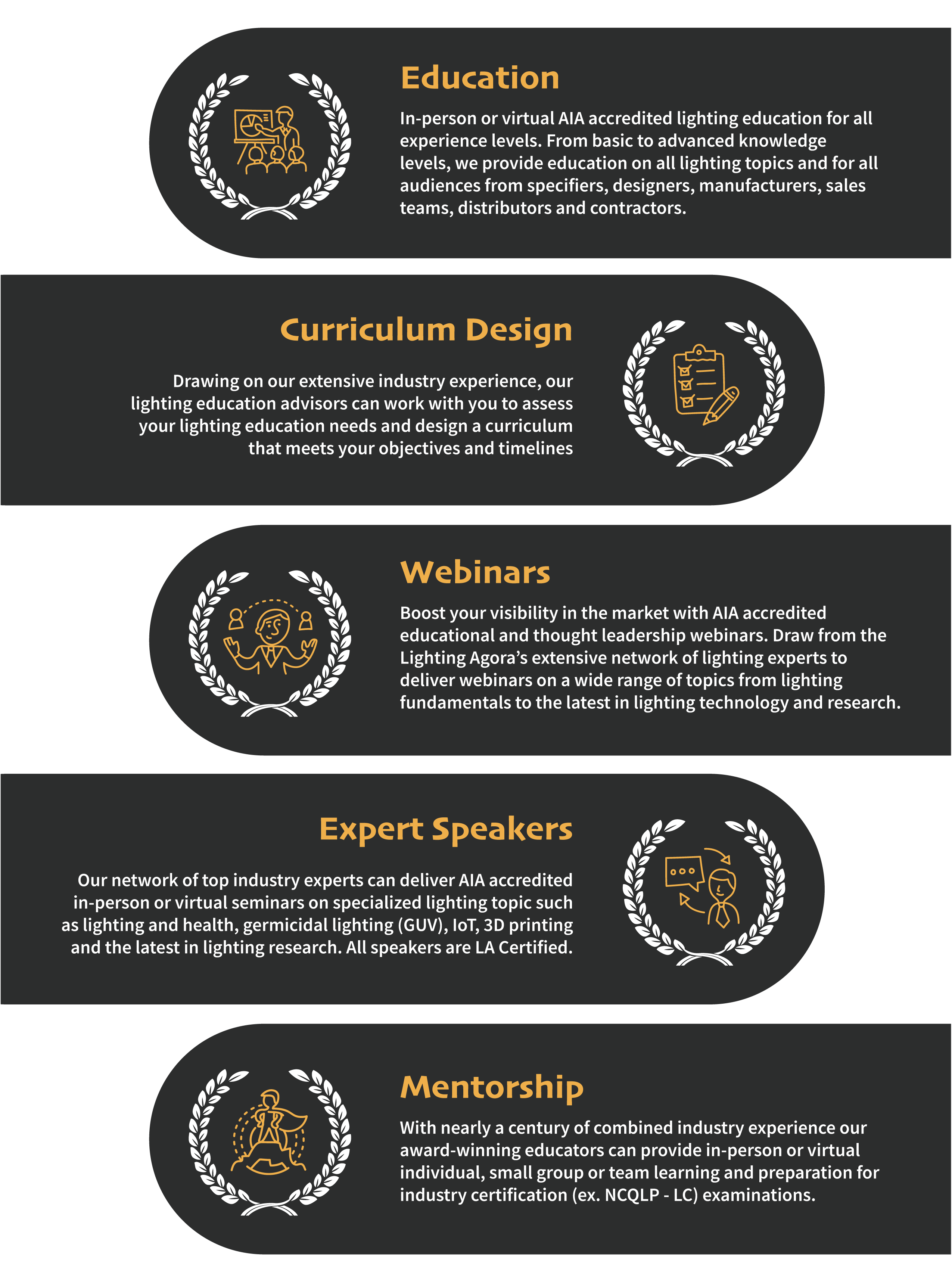 Our lighting education experts can:
Develop a specific course or curriculum customized to your needs
Deliver exceptional on-line lighting education to any size group
Deliver outstanding and entertaining in person lighting education to any sized group (with allowance for local health concerns)
Provide expert lighting speakers on any lighting topics to your event.
Provide expert lighting speakers on any lighting topic as a webinar.
Produce webinars on any lighting topic.
Deliver lighting knowledge tutoring
Provide tutoring for studying for the NCQLP (LC) Exam
Develop and deliver "Train the trainer" sessions
Customized Trade Show In-Booth Lighting Education
The Lighting Agora would be proud to be your one-stop authority on your lighting knowledge needs.